MOUNTS: The telescope mounts of all three howitzers are of the same basic design. All are of the azimuth compensating type and automatically compensate for trunnion cant when cross-levelled. The angle of site mechanism has a scale graduated from 100 to 500 mils with 300 mils representing normal.
OPERATION: Range or super-elevation is introduced by turning the large handwheel below the bracket for the panoramic telescope. Operation of this knob causes the range drum to be rotated past the index and the index arm to be moved through an angle equal to super-elevation.
Angle of site is introduced by two operations. The first operation is to offset the angle of site level vial an amount equal and opposite to the angle of site. This is done by turning the small knob between the super-elevation handwheel and panoramic telescope bracket. The second operation is to rotate the telescope mount by means of the knurled knob beneath the super-elevation handwheel until the angle of site level is again on a horizontal plane. This second step moves the index arm an additional amount and positions it in an angle equal to quadrant elevation.
The second index arm which is actuated by the gun is brought into agreement with the first index arm by elevating the gun. The gun is then laid for quadrant elevation.
It is necessary to operate the angle of site mechanism on the panoramic telescope to bring the line of sight back on its original plane.
7.5 cm le. F. K. 18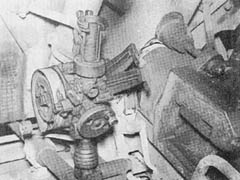 Sight Mount for 7.5 cm Howitzer
RANGE DRUM GRADUATION: The range drum above has two scales: an elevation mil scale numbered from 0 to 800, divided into two mil units, and a range scale graduated in hectometers and numbered from 1 to 15.
10.5 cm le. F. H. 18


Sight Mount for 10.5 cm Howitzer
RANGE DRUM GRADUATION: The mil scale on the range drum for the above instrument is graduated in the same manner as for the 7.5 cm howitzer. The range scale is graduated for zone 5; the scale is divided into 50 meter units from 100 to 9150 meters.
15 cm s. I. G. 33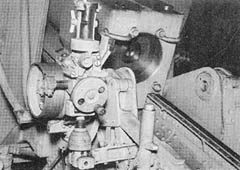 Sight Mount for 15 cm Howitzer
RANGE DRUM GRADUATION: In addition to the 0 to 800 mil scale on the above instrument there is a second mil scale, filled with red, placed to the right of the 0-800 scale. This second scale is graduated in 2 mil steps from 800 to 1330 mils. The range scale is preceded by the Roman Numeral I and is divided in increments of 25 meters from 25 to 1475 meters.
German: p. 177