7.5 cm Pak 41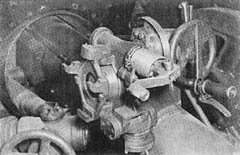 Sight Mount for 7.5/5.5 cm A.T. Gun
RANGE SCALES: There are five scales engraved about the periphery of the range drum. The first is an elevation scale graduated from 0 to 80 mils. The other four are range scales, numbered from 0 to III and graduated from 0 to 4200, 3800, 3400, and 3200 meters respectively. The range scale on the sector is graduated for ranges from 0 to 1500 meters.
TELESCOPE MOUNT: The telescope mount for the 7.5/5.5 is of simple construction. There is a range drum with its axis parallel to the axis of the telescope and a range scale inscribed on an arc that is located on the right side of the telescope mount. A deflection mechanism is located below the range setting handle.
8.8 cm Pak 43/41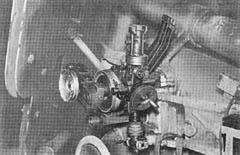 Sight Mount for 8.8 cm A.T. Gun
RANGE DRUM GRADUATION: The range drum has three scales engraved about its periphery. These scales, from left to right are: an elevation scale in steps of 2 mils from 0 to 800; a range scale marked for 8.8 cm Sp. Gr. L/4.7 with limits of 0 to 5500 meters; and a range scale marked 8.8 cm Sp. Gr. 39H1 with limits of 0 to 3000 meters.
TELESCOPE MOUNTS: There are two telescope mounts mounted side by side on the left side of the weapon. The first telescope mount is of the rocking bar type and is designed primarily for anti-tank use. There is no deflection mechanism apparent on the available model. The range drum is graduated from 0 to 4000 meters. The second telescope mount is of the same general design as that used with the 7.5 cm, 10.5 cm and 15 cm howitzers. Both its use and operation are also the same.
German: p. 178