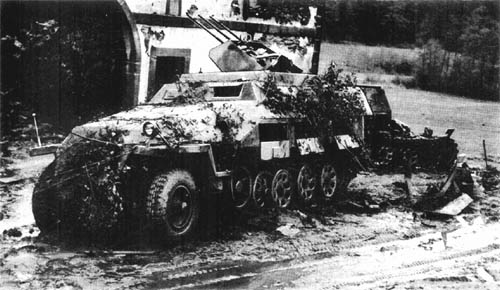 This is the 3-ton, armored semitrack mounting triple 15 mm or 20 mm heavy machine guns of the Model 151 aircraft type. The equipment is an assault weapon intended for ground combat, and engagement of low flying aircraft is a secondary role.
The three guns, which are cocked manually and percussion fired, are set coaxially and in the same plane. Each gun is held in a standard MG 151 aircraft cradle, less the body extension. The cradles are bolted to a common block on the top bracket of the pedestal, pivoting on trunnions for elevation and depression. The top bracket is bolted to a bottom conical skirt and the whole rotates freely on a cone pedestal fixed to the floor of the vehicle. Elevation (-5° to 49°) and traverse (360°) are shoulder controlled by the firer. A brake locking device is provided for traverse.
The guns, capable of firing 700 r.p.m. each, are belt fed, the belts being contained in steel boxes, one for each gun. A total of 3,000 rounds of ammunition in belts is carried in the vehicle. Penetration of A.P. projectiles fired from the 15 mm MG 151 is reported as 18 mm from 100 meters at 30 degrees.
Sighting apparatus consists of a telescopic sight with a magnification of 3 and a field of view of 8 degrees; a cartwheel type antiaircraft sight, and a hand periscope with a magnification of 8 and a field of view of 7.5 degrees.
A further description of the components of this equipment is available on pages 45 and 252.
SPECIFICATIONS
Weight
8 tons
Trailer load capacity
3.3 tons
Length
19 ft.
Width
7 ft.
Height
Ground clearance
12 ins.
Tread centers
5 ft., 3 ins.
Ground contact
5 ft., 11 ins.
Track width
11 ins.
Track links
55
Radius of action
186 miles
Fuel tank
42.5 gals.
Fuel consumption (roads)
5 miles per gal.
Fording depth
20 ins.
Speed
30 m.p.h.
Engine
Maybach, NL 42 TUKRR
Bore and stroke
90 x 110 mm
Horsepower
100
Ignition
Bosch magneto
Battery
12 volt
Transmission
4 speeds forward, 1 reverse. High and low range.
Steering
Front wheel and track epicyclic
Crew
4
German: p. 46.2 (April 1, 1945)