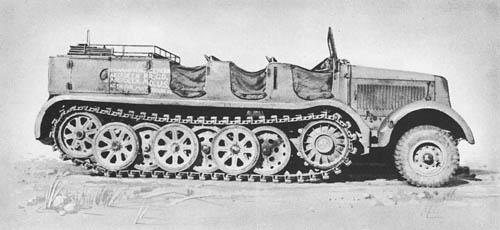 The 12-ton heavy prime mover is highly mobile despite its bulky appearance. It can handle a trailer load of 13 tons and carry a crew of 11, including the driver. It has a weight distribution as follows: front wheels, 5,200 pounds; track, 21,300 pounds. Its combat weight is 16 tons.
The front suspension consists of a tubular axle of the oscillating, floating type carried by two pressed steel wheels, size 11.25 x 20, mounting extra heavy-duty tires. A traverse leaf spring is on a pivot in the center of the frame. One end of the spring is mounted to the axle through a shackle while the other end is free to slide. The rear, or track suspension, is made up of six twin rubber-tired bogie wheels mounted on torsion arms, attached to torsion bars and housed in cross tubes. The front drive sprocket and rear idler complete the assembly. The track is of the needle-bearing type with removable rubber pads.
Steering is by conventional steering wheel and through epicyclic-controlled differential to the track sprockets, being actuated by hydraulic brake bands.
Power is furnished by a Maybach V-12 over-head valve, liquid-cooled, HL 85 TUKRM gasoline engine, rated at 185 horsepower. Ignition is the conventional 12-volt Bosch magneto located behind the carburetors. All ignition wires are carried in a flexible aluminum conduit to the side of the engine.
The transmission provides four speeds forward, one reverse, with high and low range.
This vehicle is equipped with an inertia starter and a cable winch with a lifting power of 5.5 tons.
SPECIFICATIONS
Weight
13 tons
Length
24 ft.
Width
8 ft., 2 1/2 ins.
Height
9 ft., 2 ins.
Ground clearance
16 ins.
Tread centers
6 ft., 3 ins. (wheels, 6 ft., 9 ins.)
Ground contact
8 ft., 3 ins.
Width of track
15.7 ins.
Track links
55
Pitch of track
8 ins.
Fording depth
25 ins.
Theoretical radius of action
Roads
155 miles
Cross-country
62 miles
Speed
Roads
30 m.p.h. (est.)
Cross-country
18 m.p.h. (est.)
Armor
Front plate
None
Sides
None
Armament
Ammunition (rds.)
Engine
Maybach HL 85 TURRM, 185 hp.
Transmission
4 speeds forward, 1 reverse, high and low range
Steering
15° and over—Epicyclic controlled differential
Crew
11
German: p. 55