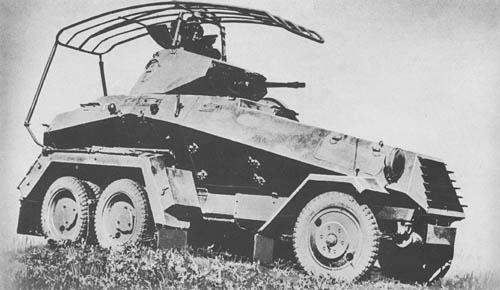 This six-wheeled armored car is a heavy, highly mobile vehicle with a four-man crew. It is armed with one 20 mm KwK 30 and one M. G. 34 coaxially mounted in the turret.
Like the 8 Rad Panzerspähwagen, the six-wheeled vehicle can be operated from either the front or rear, duplicate controls being fitted at either end. Steering is by front wheels only. It has a six-wheeled final drive; single wheels at the front, and dual double wheels at the rear. The front springs are fitted to the frame with shock absorbers. The rear springs are suspended by tubular traverse, semi-elliptical springs. It has six forward and six reverse speeds.
Special gripper chains are available for fitting over the rear wheels, thus giving each pair the function of a track. Slightly smaller wheels may be fitted outside the front wheels giving extra traction on soft ground.
The engine, manufactured by Bussing Nag, is a water-cooled, 100 horsepower, gasoline type. The superstructure is built by Deutsche Werke, Kiel.
This vehicle carries the same nomenclature as its 8-wheeled counterpart. Model 231 is the heavily armored variation carrying both the cannon and the machine gun. No. 232 is a wireless command vehicle and No. 263 an armored wireless vehicle without the 20 mm gun.
These cars are used for reconnaissance, police patrol work, as command vehicles, and as radio receiving and sending stations.
SPECIFICATIONS
Weight
6 tons
Length
18 ft., 5 ins.
Width
6 ft., 1 in.
Height
7 ft., 4 ins.
Ground clearance
9 ins.
Suspension
Dual double wheels at rear, single wheels at front
Wheel base
Between axles 1 and 2—8 ft., 3 ins.
Between axles 2 and 3—2 ft., 11 ins.
Size tires
8.27 x 18
Fording depth
2 ft.
Theoretical radius of action
Roads
156 miles
Cross-country
93 miles
Speed
Roads
45 m.p.h.
Cross-country
20 m.p.h.
Armor
Front plate
15 mm
Sides
7.5 mm
Armament
2 cm Kw.K. 30
7.92 mm M.G. 34
Ammunition
Engine
Bussing Nag, 100 hp.
Transmission
Constant mesh, helical gear—6 speeds forward, 6 reverse
Steering
Worm and nut
Crew
4
German: p. 42