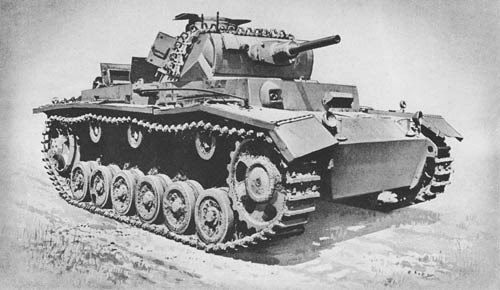 Model F—This is the first tank of the series to mount a 5.0 cm Kw. K. electrically fired tank gun in place of the 3.7 cm Kw. K. and also the first to have a new type mantlet. This mantlet has a thick shield on the front which moves with the gun. A single machine gun is mounted coaxially on the right of the 5.0 cm gun and the hull machine gun is retained.
The hull consists of three separate subassemblies: (1) lower hull, (2) front superstructure carrying turret, and (3) rear superstructure covering the engine compartment. All units are of single skin welded construction.
The turret forms the roof of a spacious fighting compartment, being mounted over the middle part of the hull. It has no rotating platform, the commander and the gunner having seats suspended from and rotating with the turret. The loader apparently stands on the floor of the fighting compartment. The commander's cupola is bolted to the roof of the turret on the center-line to the rear.
The suspension is the same as that used in Model E.
The engine is the Maybach V-12, gasoline, rated 320 hp. Its transmission is the synchromesh type with 10 speeds forward and 4 reverse. Its steering is of the epicyclic, clutch brake type with hydraulic control.
Model G—Identical in armament, mantlet, and mechanical components to Model F, the only difference being in the cupola, which is more squat and has all-around vision.
Model H—This model has additional 32 mm plates bolted on the front of the superstructure, on the upper and lower nose plates and on the tail plate. The outstanding recognition features of this model are its front sprocket which has six spokes, and its rear idler which is more open than the earlier type, though it has eight spokes. Wider tracks and narrower bogie wheels are also used.
SPECIFICATIONS
Weight
22 tons
Length
17 ft., 9 ins.
Width
9 ft., 7 ins.
Height
8 ft., 3 ins.
Ground clearance
15 ins.
Tread centers
8 ft., 1 7/8 ins.
Ground contact
(approx.) 10 ft., 6 ins.
Width of track
14 1/8 ins.
Pitch of track
4 3/4 ins.
Track links
90
Fording depth
3 ft.
Theoretical radius of action:
Roads
100 miles
Cross-country
60 miles
Speed:
Road
28 m.p.h.
Cross-country
15 m.p.h.
Armor:
Front plate
30 + 32 mm
Sides
30 mm
Armament
5.0 cm Kw. K.
2 MG's
Ammunition
Engine
Maybach, HL 120, V-12, 320 hp.
Transmission
Synchromesh, 10 forward, 4 reverse, and 6 forward, 1 reverse.
Steering
Epicyclic, clutch brake
Crew
5
German: p. 23