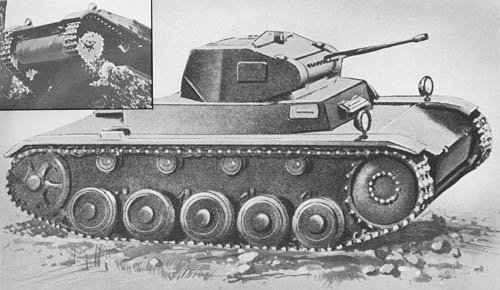 The early development of the Pz. Kpfw. II is indicated by five models, a1, a2, a3, b and c. They were considered as prototype tanks.
Model a1—Had a suspension arrangement of six small bogie wheels, each side mounted on three hull pivots connected by an outside girder. There were four return rollers, sprocket, and a cast rear idler. It weighed about 8.4 tons, was manned by a crew of three and mounted one 2 cm KwK 30 and a coaxial 7.92 mm M.G. 34 in the turret. It was powered by a six-cylinder Maybach (HL 57 TR) gasoline engine and was fitted with epicyclic and brake steering without a final reduction gear. The frontal armor was 20 mm in thickness, the sides 15 mm.
Model a2—Same as Model a1 except for variation in construction of engine compartment and welded rear idler instead of cast.
Model a3—Same as Model a1 except for minor modifications in the suspension arrangement and cooling system.
Model b—Incorporated an improved Maybach (HL 62 TR) engine, as well as a new track with wider driving sprockets, bogie wheels and return rollers. A final reduction gear was also introduced, which necessitated slight alterations in the structure of the front of the hull. The model weighed 9 tons.
Model c—An entirely new suspension comprising five independently sprung bogie wheels on each side made its appearance in this model. It is believed that the torsion bar system of bogie wheel suspension originated in this tank. Modifications to the driving sprocket, rear idler, and return rollers, the latter of which now numbered four, were made. Improved epicyclic and steering brakes were also introduced, the latter being equipped with automatic take-up to compensate for wear. Model c weighed 9 1/2 tons.
SPECIFICATIONS
Weight
8 1/2 to 9 1/2 tons
Length
15 ft., 2 ins.
Width
7 ft., 4 ins.
Height
6 ft., 5 ins.
Ground clearance
13 ins.
Tread centers
6 ft., 2 ins.
Ground contact
7 ft., 10 ins.
Width of track
11 1/8 ins.
Pitch of rack
3 5/8 ins.
Track links
106
Fording depth
3 ft.
Theoretical radius of action
Roads
102 miles
Cross-country
60 miles
Speed
Roads
30 m.p.h.
Cross-country
15 m.p.h.
Armor
Front plate
20 mm
Sides
15 mm
Armament
One 2 cm KwK 30
One M.G. 34
Ammunition (rds.)
2 cm gun 180
M.G. 2550
Engine
HL 57 TR or HL TRM 62
Maybach
140 B.H.P.
Transmission
6 speeds forward, 1 reverse
Steering
Epicyclic clutch brake
Crew
3
German: p. 6