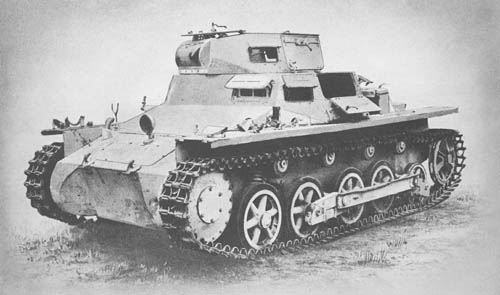 Produced by the Krupp Company. In this model the 100 horsepower, 6-cylinder, water-cooled Maybach engine replaced the former Krupp air-cooled engine.
The turret, from which the gunner's seat is suspended, is hand traversed through 360°. The turret floor does not revolve. The inside diameter of the turret ring is 36 1/2 inches. The hull and superstructure are essentially the same as Model A.
The suspension differs from Model A in that an additional bogie wheel has been utilized. The trailing idler has been replaced by a rear elevated idler. There is also an additional return roller. The quarter elliptic spring is anchored to the under side of the transverse bogie casting allowing the spring to bump its own opposite end. The coil spring is not used except for the forward independently mounted bogie wheel. There are 99 links in the tracks.
With a bore of 90 mm and piston stroke of 100 mm the engine develops 100 h.p. at 3000 r.p.m. The valves are single overhead camshaft driven from helical timing gears at the rear of the engine, operating two inclined valves per cylinder through rockers mounted on independent shafts, one for inlet and one for exhaust The rockers are operated through rollers. Valve clearance is adjusted by rotation of eccentric bushings on rocker shafts. A Solex duplex type carburetor is utilized, and a Pallas gasoline fuel pump incorporating a bowl filter and hand primer, the latter operated by remote control from the fighting compartment. The transmission and steering mechanism remain the same as Model A.
The armament consists of two turret-mounted 7.92 mm M. G. 13's. Five smoke candles are carried on a rack at the rear and may be released from inside the tank.
SPECIFICATIONS
Weight
6 tons
Length
14 ft., 6 ins.
Width
6 ft., 9 ins.
Height
5 ft., 7 ins.
Ground clearance
11 1/2 ins.
Tread centers
5 ft., 5 ins.
Ground contact
8 ft.
Width of track
11 ins.
Pitch of track
3 11/16 ins.
Track links
99
Fording depth
2 ft.
Theoretical radius of action
Roads
87 miles
Cross-country
72 miles
Speed
Roads
32 m.p.h.
Cross-country
15 m.p.h.
Armor
Front plate
15 mm
Sides
10 mm
Armament
Two 7.92 mm M. G. 13
Ammunition (rds.)
1525
Engine
100 h.p. Maybach Model N. L. 38 T
Transmission
5 speeds forward, 1 reverse
Steering
Clutch brake
Crew
2
German: p. 2