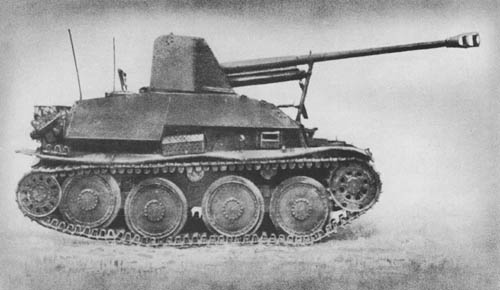 This vehicle is an ex-Czech light tank chassis mounting a Russian 7.62 cm Pak 36 (r). The mechanical layout and components are identical with those of the Pz. Kpfw. 38 (t) tank and its road performance will therefore be similar.
The conversion to a self-propelled mounting has been achieved by the removal of the turret and the superstructure top plate of the original tank. The turntable for the gun is mounted on the superstructure at four points on transverse and lateral beams. A three-sided shield of 10 mm plate is secured by bolting and welding to the original front gun shield, and by tubular supports to the mounting. This shield traverses with the gun. A sliding mantlet is provided in the shield to permit elevation and depression of the gun. A lower, fixed three-sided shield is bolted to the superstructure. This is of 15 mm plate. The sloping side covers have been replaced by flat hatches hinged to the sides.
The gun is of monobloc construction with detachable breech ring. It has an over-all length, including the double baffle muzzle brake and breech lock, of 163 1/2 ins. The elevating gear is driven from a handwheel, on a traverse axis, on the left of the gun. The traversing gear is hand operated from the right. The gun has the following muzzle velocities: HE shell, 1805 f.s; A.P.C. shell, 2430 f.s. The penetration performance firing A.P.C. shell against homogeneous armor is as follows: 500 yards 3.7 ins. at 30° obliquity, 1000 yards 3.2 ins. at 30°, 4.1 ins. normal—2000 yards 2.5 ins at 30°, 3.1 ins. normal—2500 yards 2.2 ins. at 30°, 2.8 ins. normal.
Additional armament on this vehicle consists of a 7.92 M.G. 37 (t) on a ball mounting in front superstructure; Discharger for 5 smoke generators, fired by cable from fighting compartment; 9 mm machine carbine.
SPECIFICATIONS
Weight
11 tons
Length
15 ft., 3 ins.
Width
7 ft.
Height
8 ft., 1 1/2 ins.
Ground clearance
15 ins.
Tread centers
5 ft., 9 1/2 ins.
Ground contact
8 ft., 63 ins.
Width of track
11 ins.
Pitch of track
41 ins.
Track links
89
Fording depth
3 ft.
Theoretical radius of action
Roads
140 miles
Cross-country
100 miles
Speed
Roads
25 m.p.h.
Cross-country
15 m.p.h.
Armor
Front plate
25 + 25 mm
Sides
30 mm
Armament
7.62 cm Pak 36 (r)
7.92 mm M.G. 37 (t)
Ammunition (rds.)
7.62 cm gun 28
M.G. 1500
Wt. of Projectiles
A.P.C.
16.7 lb.
H.E.
12.6 lb.
Engine
Praga 6-cyl., gasoline, 125 h.p.
Transmission
5 speeds forward, 1 reverse
Steering
Epicyclic clutch brake
Crew
4
German: p. 21