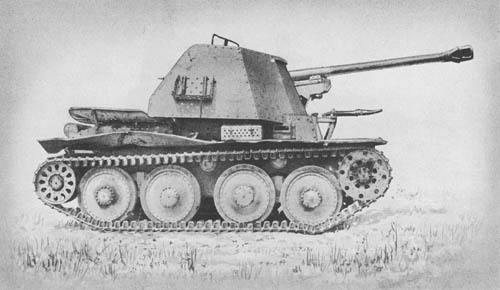 The equipment consists of the 7.5 cm Pak 40 mounted on a turretless chassis of a Pz. Kpfw. 38 (t) tank of Czech origin, formerly known as the L.T.H. This mount was used by the Germans in large numbers on the Russian front. It usually moves just in the rear of the first wave of tanks. Its road performance approximates that of the Pz. Kpfw. 38 (t) tank.
Due to the bolted construction of the parent vehicle the removal of the turret, superstructure top plate and the engine access hatches of the original tank is readily accomplished and the mounting of the anti-tank gun is speedily performed. The turntable of the anti-tank gun is bolted to the angle section formerly carrying the superstructure top plate of the original tank. The gun shield is constructed from 10-15 mm plate. It is open at the top and rear. The protection afforded the crew is little better than would be found on a field piece.
The gun, which projects well beyond the front of the hull, is of monobloc, loose barrel construction, and is fitted with a double baffle muzzle brake. The breech ring is rectangular and is secured to the barrel by a loose screwed collar. The recoil mechanism is attached underneath the ring by a detachable lug. The elevating and traversing mechanisms are controlled by hand wheels. The gun has the following muzzle velocities: HE 1800 f.s.; A.P.C., 2525 f.s; hollow charge 1476 f.s. The A.P.C. shell will penetrate homogeneous armor as follows: 500 yards 4.0 ins. at 30° obliquity, 4.8 ins. normal—1000 yards 3.6 ins. at 30°, 4.3 ins. normal—2000 yards 2.8 ins. at 30°, 3.4 ins. normal—2500 yards 2.5 ins. at 30°, 3.0 ins. normal. The gun has a traverse of 65° and an elevation of -5° to + 22°.
SPECIFICATIONS
Weight
(approx.) 11 tons
Length
15 ft., 3 ins.
Width
7 ft.
Height
7 ft., 2 ins.
Ground clearance
15 ins.
Tread centers
5 ft., 9 1/2 ins.
Ground contact
8 ft., 6 3/4 ins.
Width of track
11 ins.
Pitch of track
4 1/2 ins.
Track links
89 ins.
Fording depth
3 ft.
Theoretical radius of action
Roads
140 miles
Cross-country
100 miles
Speed
Roads
25 m.p.h.
Cross-country
15 m.p.h.
Armor
Front plate
25 + 25 mm
Sides
30 mm
Armament
7.5 cm. Pak 40
M.G. 37 (t)
Ammunition (rds.)
Engine
Praga 6-cyl., 125 h.p., gasoline
Transmission
5 speeds forward, 1 reverse
Steering
Epicyclic clutch brake
Crew
Probably 4
German: p. 19