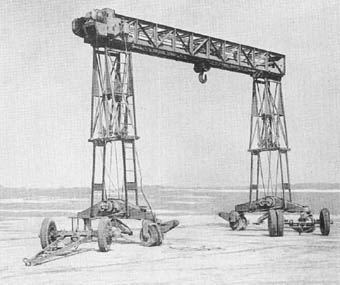 The portable Gantry Crane was manufactured in 1942 by J.S. Fries & Son, Frankfurt, Germany. It has a capacity of 33,000 pounds, and is used by field tank maintenance units in removing turrets and engines from heavy German tanks.
With a crew of eight men, the crane can be erected from traveling position to the operating position in an estimated time of twenty minutes. When the crane is in the operating position, it can be moved on its bogies on hard surface ground, or it can be run on rails that engage the flanges on the inside of the bogie wheels.
The equipment has a tendency to be top heavy in the traveling position. It is easily erected to the operating position because of its jack-knife tubular legs which are equipped with wire cable tackle blocks and manual winch.
The bridge is fabricated from welded "I" beams and angle iron shapes. The hoisting winch and motor assembly are permanently mounted at one end of the bridge. The motor, a ten-horsepower, three-phase, fifty-cycle 220/380-volt squirrel cage induction type, is equipped with magnetic friction brake and a two-station start-and-stop starter.
The hoisting block, a twin sheave type using a six-37-strand three-quarter-inch galvanized cable, can be raised or lowered manually when power is off.
The trolley is supported by four ball bearing flanged wheels and has ball bearing equipped sheaves. The trolley is traversed manually by a chain.
SPECIFICATIONS
| | | |
| --- | --- | --- |
| Weight | | 17,250 lb. |
| Weight on front wheels | | 9,170 lb. |
| Weight on rear wheels | | 8,180 lb. |
| Length (overall) | | 48 ft. |
| Length of bridge | | 30 ft., 5 ins. |
| Length of bridge track | | 23 ft., 9 ins. |
| Length of drawbar | | 11 ft. |
| Width (overall) | | 7 ft., 4 1/2 ins. |
| Width of bridge | | 3 ft., 3 ins. |
| Height (overall) | | 22 ft., 8 ins. |
| Height in traveling position | | 8 ft., 2 ins. |
| Height of bridge | | 2 ft., 7 1/2 ins. |
| Center to center of bridge track | | 2 ft., 3 ins. |
| Tread centers (front) | | 5 ft. |
| Tread centers (rear) | | 6 ft., 8 ins. |
| Ground clearance at axles | | 1 ft. |
| Ground clearance at bogie wheels | | 5 1/2 ins. |
| Tire size | | 34 x 7 (8.00 x 20) |
| Bogie wheel size | | 150 x 410 mm – 5.9 in. x 16.1 in. |
| Capacity | | 15 tons |
German: p. 62.1