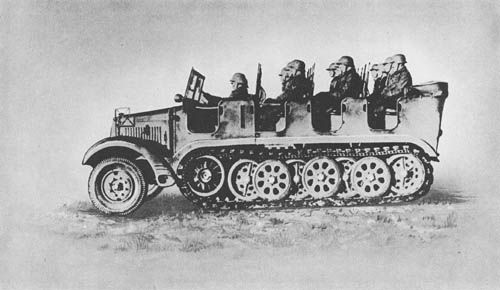 This is the medium 5-ton semitrack prime mover. It is designed as an artillery tractor to tow the piece and carry the gun crew of fourteen men. It is similar in design to all of the standard line of semitrack prime movers for artillery. It can tow a trailer load of 11,000 pounds when loaded to a combat weight of 19,360 pounds. The weight distribution on the front axle is 2,860 pounds, and on the track 16,500 pounds.
The suspension is made up of six dual-rim, rubber-tired bogie wheels, three of which are alternately straddle-mounted to torsion bars, followed by the idler which just clears the ground. The sprocket is fitted with contact rollers and rigidly mounted to the frame.
The vehicle is powered by a Maybach NL 38 TRKM 95 horsepower engine fitted with standard 12-volt Bosch magneto ignition and No. 40 JFF 2 Solex Carburetor.
The transmission combines the final drive which includes an epicyclic reduction gear for each sprocket. Steering is effected from the steering wheel in the usual manner up to 15°, after which the epicyclic steering brakes cause a reduction in the speed of the track on the inside of the turn, while through the differential a relative compensating action takes place.
This vehicle has a fuel tank capacity of 47 gallons; its highway fuel consumption is 1 gallon in 4 miles. The lifting winch which is fitted to the rear has a lifting power of 2.7 tons.
SPECIFICATIONS
Weight
8 tons
Length
19 ft., 9 ins.
Width
7 ft., 2 ins.
Height
8 ft., 2 ins.
Ground clearance
15 ins.
Tread centers
5 ft., 7 ins.
Ground contact
6 ft., 6 ins.
Width of track
12.6 ins.
Track links
55
Pitch of track
Fording depth
2 ft.
Theoretical radius of action
Roads
180 miles
Cross-country
71 miles
Speed
Roads
30 m.p.h.
Cross-country
18 m.p.h.
Armor
Front plate
Sides
Armament
Ammunition
Engine
6-cyl. Maybach HL 42 TRKM—100 hp.
Transmission
4 speeds forward, 1 reverse, high and low range
Steering
15° and over—Epicyclic controlled differential
Crew
15
German: p. 53