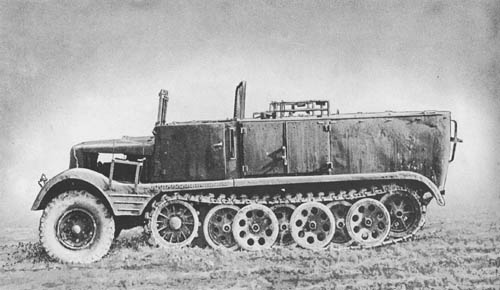 The following variations of the 3-ton light semitrack prime mover are known: (1) medium armored personnel carrier (Sd. Kfz. 251); (2) smoke vehicle (Sd. Kfz. 11/1) when it is apparently fitted with racks to carry generators; (3) medium decontamination vehicle (Sd. Kfz. 11/2); (4) medium bulk contamination vehicle (Sd. Kfz. 11/3); (5) ambulance. The vehicle is also used for mounting antiaircraft weapons.
The body and frame are constructed of electrically welded steel.
The suspension is the normal type as used for semitrack vehicles. Six pressed-steel, double-rim bogie wheels are straddle mounted on torsion bars which are housed in cross tubes, each containing two torsion bars. The track consists of rubber-pad track blocks which contain needle-bearings.
A normal type forged front axle is used to carry two pressed-steel wheels with 7.5 x 18 tires. No front brakes are provided. Triangular radius rods similar to conventional Ford system are attached from axle to cross members at rear of engine.
The power plant consists of a 6-cylinder, in-line, valve-in-head, liquid-cooled engine Maybach engine, type NL 42 TUKRR, rated 100 horsepower.
The vehicle has a radius of action of 168 miles on roads and 84 miles cross-country. It has a seating capacity for eight men, including the driver.
SPECIFICATIONS
Weight
6 tons
Length
18 ft.
Width
6 ft., 7 ins.
Height
7 ft., 3 ins.
Ground clearance
12.5 ins.
Tread centers
5 ft., 3 ins.
Ground contact
5 ft., 11 ins.
Width of track
11 ins.
Track links
54
Pitch of track
5.5 ins.
Fording depth
20 ins.
Theoretical radius of action
Roads
168 miles
Cross-country
84 miles
Speed
Roads
Cross-country
Trailer load
3.3 tons
Engine
Maybach, NL 42 TUKRR—100 hp.
Transmission
4 speeds forward, 1 reverse, high and low range
Steering
Front wheel and track epicyclic, controlled by normal steering wheel
Crew
8
German: p. 52