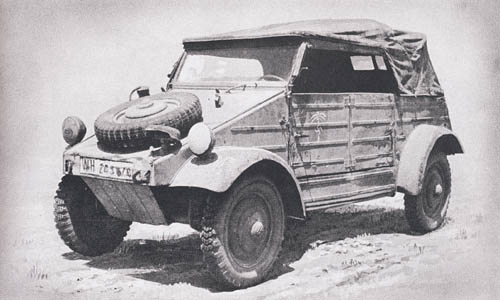 The German Volkswagen ("people's car") was converted to military use at the outset of the war. It is a very economical and cleverly designed vehicle, although it is cheaply constructed. It weighs 1,600 pounds.
For a frame the Volkswagen has a central tube to which the components of the front and rear axles are attached to form the chassis. The floor, which is ribbed, helps reinforce the central tube. The body panels are light, being made up mostly of about 18-gauge black iron stampings. Tubular struts, designed in such a way as to serve as grab rails for the four occupants, are used for the basic structural members of the body. All wheels are independently sprung and torsion rods are used for all suspensions instead of the common semi-elliptic leaf spring. Shock absorbers are fitted to the front and rear. The steering gear and connections are of more or less conventional type. The brakes are mechanical, cable-operated.
The four-cylinder, air-cooled engine, the transmission (with four speeds forward and one reverse), and the positive-locking differential comprise a unified structure secured to the floor at its extreme rear end. At each side of the differential are universal joints providing centers about which the housings for the two rear driving-axles may articulate. The rear wheels are stabilized laterally from the differential housing. An overdrive in 4th gear gives a ratio of .80 to 1. Also, certain design features which we generally accept as necessary have been omitted from the engine. For instance, there are no counterbalances on the crank shaft, and no lubricating oil filter.
The Volkswagen has a maximum speed of 50 m.p.h.
SPECIFICATIONS
Weight
1,600 lbs.
Length
12 ft., 3 ins.
Width
5 ft., 3 ins.
Height
5 ft., 5 ins. (with top raised)
Ground clearance
11.5 ins.
Wheelbase
7 ft., 10½ ins.
Width of front track
53.4 ins.
Width of rear track
53.5 ins.
Fording depth
18 ins.
Theoretical radius of action
Roads
250 miles
Cross-country
Speed
Roads
50 m.p.h.
Cross-country
Normal fuel consumption
1 gal. per 29.5 miles
Engine
4-cylinder, horizontally opposed, air-cooled, 24.5 B.H.P. at 3,300 r.p.m.
Transmission
4 speeds forward, 1 reverse
Steering
Normal
Crew
4
German: p. 59