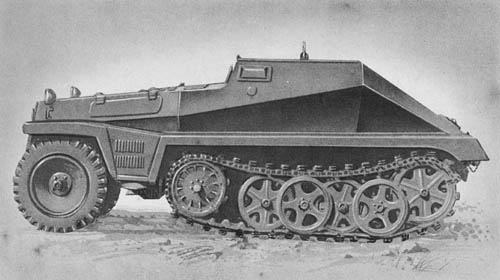 This is the light armored ammunition carrier with the chassis of a light semitrack prime mover. Except for its sloping rear superstructure and small personnel compartment it is similar in appearance to the Sd. Kfz. 250 and 253, all of which are armored counterparts of the Sd. Kfz. 10. Unlike the Sd. Kfz. 10, however, the suspension of this armored version has only four straddle-mounted bogie wheels on each side instead of five.
The power plant and power train in this vehicle are the same as those of the Sd. Kfz. 10 and, although the Sd. Kfz. 252 is heavier, the road performance of the two is similar.
The maximum highway range of this vehicle is 198 miles on a fuel tank capacity of 35 gallons. Its maximum speed is 35 m.p.h. and is operated by a crew of two.
The net weight of the vehicle ready to drive is 10,406 pounds. The combat weight is 12,606 pounds. Weight distribution on the front axle is 2,618 pounds and on the track 9,988 pounds. A power cable winch having a lifting power of 5,500 pounds is fitted as standard equipment. Outside measurement of the turning radius is 35 feet.
SPECIFICATIONS
Weight
5.2 tons
Length
15 ft., 5 ins.
Width
6 ft., 5 ins.
Height
5 ft., 4 ins.
Ground clearance
11 ins.
Tread centers
5 ft., 5 ins.
Ground contact
3 ft., 11 ins.
Width of track
9 1/2 ins. (wheel 7.5 ins.)
Pitch of track
6 5/16 ins.
Track links
40
Weight on front axle
2,618 lb.
Fording depth
27 ins.
Theoretical radius of action
Roads
198 miles
Cross-country
130 miles
Speed
Roads
35 m.p.h.
Cross-country
25 m.p.h.
Armor
Front plate
15 mm (est.)
Sides
8 mm (est.)
Armament
Ammunition
Engine
Maybach, 6-cyl., 100 hp., HL 42 TRKM
Transmission
Preselective—7 speeds forward, 3 reverse
Steering
15° and over, epicyclic controlled differential
Crew
2
German: p. 46