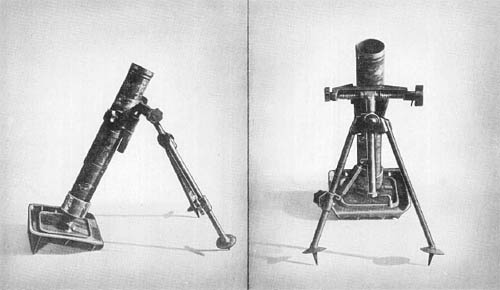 This weapon is of the same general design as the standard 8 cm mortar (s. Gr. W. 34) described on page 114. It is, however, shorter and lighter. It differs from the original weapon in the following respects:
The Model 42 has a shorter barrel with no striker control bolt at the base. It has a smaller baseplate, square in shape, with no carrying handle. The barrel is fastened to the baseplate by a spring catch. It also has a smaller bipod.
The elevating handle is situated at the base of the elevating column between the bipod legs. The cross levelling screw is halfway down the elevating column, and is connected to the left bipod leg by a sliding screw clamp.
The sight is situated on the left side of the traversing screw. Ammunition fired is the same as for the 8 cm s. Gr. W. 34.
A firing table printed on a steel plate is clamped to the tube.
SPECIFICATIONS
| | | |
| --- | --- | --- |
| Caliber | | 81 mm (3.2 ins.) |
| Weight in firing position | | 62 lbs. |
| Length of barrel, overall | | 29.5 ins. |
| Length of bore | | 25.5 ins. |
| Size of baseplate | | 12 ins. x 12 1/2 ins. |
| Principle of operation | | Muzzle loaded; percussion fired (only) |
| Elevation | | 47° to 88° |
| Maximum range | | 1,200 yds. |
| Ammunition | | Same as for 8 cm s. Gr. W. 34 |
German: p. 114.1 (June 1, 1945)