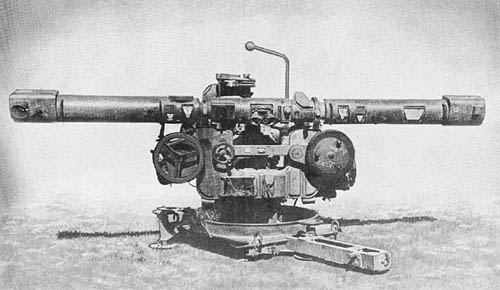 The Kommando-Gerät 36 is a goniographic director, thus differing from directors which operate on plan prediction or angular travel methods. The present instrument measures target course and speed and solves the problem by setting up to scale in ground plan the various distances involved. Ballistic data are obtained from graphical drums; varying heights are accepted, and corrections can be applied for wind, drift, displacement, dead time, and variations in muzzle velocity.
The instrument which has a built-in range finder is large and heavy and has a 4-wheeled traveling carriage for mobile use. A crew of thirteen men is required to operate it.
Readings must be called out to the appropriate operator on the director. Information is passed from one operator to another by voice and via a telephone system.
The instrument is manufactured by Zeiss and displays excellent workmanship. This director, however, has been criticized by fire control experts for poor coordination of basic design and for the excessive number of men needed to operate it.
German: p. 175