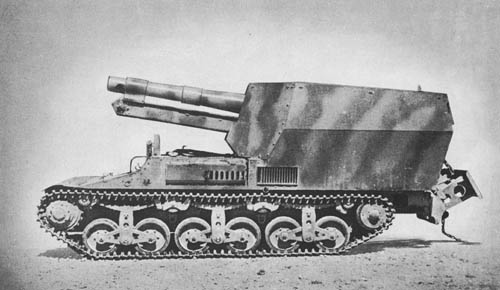 This mobile artillery equipment consists of a French Lorraine chassis, "Tracteur Blinde 38 L," on which is mounted the 15 cm. s.F.H. 13, a medium howitzer designed for the last war. The chassis type was produced shortly prior to this war as an armored ammunition and personnel carrier.
The chassis is divided into the driving compartment at the front, the engine compartment in the center and an open welled tray at the rear. The piece is mounted on the superstructure at the front of the tray and extends forward over the engine and driving compartments. The gun crew is stationed in the tray and is protected by a 9 mm armored body which is open at the top. At the extreme rear of the hull is a hinged spade which may be lowered when the gun is fired. The original carrier is armored by plates, bolted together of the following thicknesses : Nose of hull, 12 mm; glacis plate, 8 mm; front sloping plate, 9.5 mm; sides, 9 mm; back, 9 mm; top, 6 mm; floor, 5 mm. Except for a band about 12 inches high around the rear half of the sides and the rear of the vehicle there is no overlap in the two armors.
The chassis is suspended from three semi-elliptical leaf springs on each side. The load is transmitted from the central point of each spring through supporting members to each of three pairs of bogies on each side.
The Delahaye 6-cylinder, in line, water-cooled, gasoline engine generates 80 horsepower. The ignition system is Bosch. The transmission provides 5 forward speeds and one reverse.
The piece has a muzzle velocity of 1250 f.s., bore length of 17 calibers, and a maximum range of 9300 yards. Its traverse as mounted is approximately 4 degrees and its elevation -5 to +45 degrees. It utilizes the following ammunition: H.E. shell, 92.4 lb.—Anti-concrete shell, 95.7 lb.—Smoke shell, 85.8 lb.—H.E. shell (stream­lined), 84.7 lb.
SPECIFICATIONS
Weight in action
9 tons
Length
17 ft., 5 ins.
Width
6 ft., 2 ins.
Height
6 ft., 10 ins.
Ground clearance
12 ins.
Tread centers
4 ft., 4 5/8 ins.
Ground contact
9 ft.
Width of track
8.5 ins.
Pitch of track
3 3/16 ins.
Track links
109
Fording depth
Theoretical radius of action
Roads
Cross-country
Speed
Roads
21 m.p.h.
Cross-country
Armor
Front plate
12 mm
Sides
9 mm
Armament
15 cm s.F.H. 13
Ammunition (rds.)
Engine
Delahaye 6-cyl., 80 h.p.
Transmission
5 forward speeds, 1 reverse
Steering
Clutch brake, controlled differential
Crew
5
German: p. 16