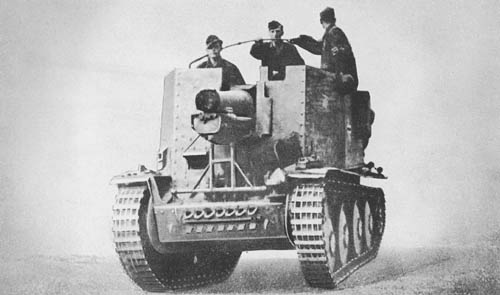 The vehicle is the result of a combination of the 15 cm heavy infantry howitzer and the Pz. Kpfw. 38 (t) tank chassis. Its road performance will approximate that of the Pz. Kpfw. 38 (t) tank.
The howitzer, from which the trail has been removed, is mounted well forward on the chassis within a box-like, open top shield, the front plates of which overlap the original gun shield. The box shield has a thickness of 25 mm in front, 15 mm at the sides, and 15 mm at the rear. A further plate, fitted over the barrel and recuperator, is elevated and depressed with the howitzer, which also retains its original traversing and elevating mechanisms. Sighting is done through the aperture in the howitzer shield, by dial sight. Six metal sheets in the shape of a 3/4 circle are fitted to the sides of the fighting compartment, four vertically at the rear on the right, and two horizontally forward on the left. These may house a shell each, thus making a total of twelve rounds, corresponding to the 12 lockers for cartridge cases and charges. AW/T set is carried. This is mounted on the left wall of the fighting compartment. A folding type rod aerial is mounted on the left. The general appearance suggests that the equipment is overloaded. The silhouette is high.
The piece, a standard German infantry support weapon, has a length of 64.57 inches, a muzzle velocity of 790 f.s., and a maximum effective range of 5140 yards. Its field mounting traverse is reported as 11°, its elevation 0° to plus 73°. Its recoil mechanism, which consists of both buffer and recuperator, is housed in a casing underneath the barrel and extends almost the entire length of the latter. The gun fires an 83.6 lb. H.E. shell, and an 84.7 lb. smoke shell.
SPECIFICATIONS
Weight
(approx.) 12 tons
Length
15 ft., 3 ins.
Width
7 ft.
Height
Ground clearance
15 ins.
Tread centers
5 ft., 9 1/2 ins.
Ground contact
8 ft., 6 3/4 ins.
Width of track
11 ins.
Pitch of track
4 1/2 ins.
Track links
89
Fording depth
3 ft.
Theoretical radius of action
Roads
140 miles
Cross-country
100 miles
Speed
Roads
25 m.p.h.
Cross-country
15 m.p.h.
Armor
Front plate
25 + 25 mm
Sides
30 mm
Armament
15 cm. s.I.G. 33
Ammunition (rds.)
12
Engine
Praga 6-cyl., 125 h.p., gasoline
Transmission
5 speeds forward, 1 reverse
Steering
Epicyclic clutch brake
Crew
3
German: p. 20