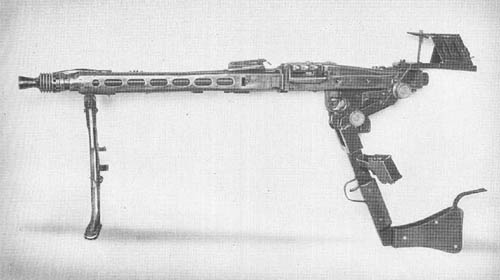 The apparatus shown attached to the 7.92 mm MG 42.
This device is an undercover aiming apparatus for firing the standard machine guns from foxholes, trenches, or depressions in the ground. It permits the user to aim the weapon without exposing himself to enemy fire.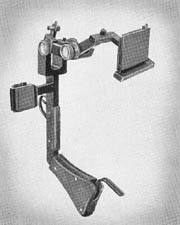 The undercover aiming and firing apparatus not attached to gun.
Construction is of welded steel boxwork, and consists of a shaft with a shoulder stock at the lower end and a securing arm which extends from the upper part of the shaft to the receiver of the weapon. Three milled edge clamping screws secure the device to the weapon. Two mirrors through which the weapon is aimed are lined up so as to utilize the standard sights. One mirror is mounted on the shaft and the other on an extension of the securing arm above and to the rear of the buffer group.
The firing mechanism is a simple linkage that enables the machine gun to be fired from a trigger on the instrument. It is necessary to have a different linkage for the MG 34 than with the MG 42. These are obtained by positioning the connecting bar in the trigger linkage. A window on the connecting bar shows when the desired linkage is obtained. The trigger linkage may also be positioned to make use of the semiautomatic arrangement on the MG 34, if desired.
The field of vision at 1,000 meters (1,093 yards) is about 200 meters (218 yards) broad. This can be increased by 100 meters (109 yards) by moving the head to the left or right. In the same manner, vertical vision which is 100 meters at 1,000 meters can be increased.
SPECIFICATIONS
| | | |
| --- | --- | --- |
| Height | | 24 ins. |
| Maximum width | | 9 ins. |
| Weight | | 7 1/2 lbs. |
German: p. 214.1 (May 1, 1945)