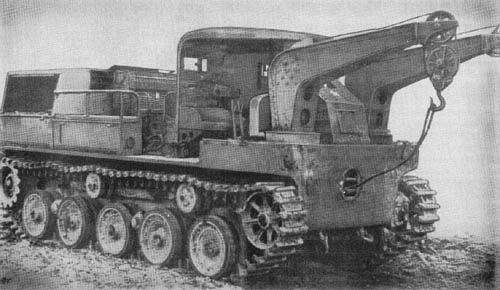 This vehicle, in addition to its function as a prime mover and wrecker, may have been used as a tank recovery vehicle. It has a total seating capacity of thirteen men. Two front booms are provided, and a removable boom at the rear. The latter can be attached in such a manner as to act as a brace for the vehicle. The front booms, which are traversed by gears, are moved and operated independently by two different operators. There is a large towing winch behind the driver's seat, and two smaller winches near the front end.
The prime mover/wrecker has been derived in part from components of the Japanese Medium Tank. There are five bogies on each side, four of which are mounted in pairs. Each pair connects to a coil spring, and the front bogie wheel is independently sprung by a separate coil spring. The drive sprocket is smaller than that employed in the Medium Tank.
The vehicle is powered by a 6-cylinder, valve-in-head, air-cooled Diesel engine located in the rear. The engine head is made of aluminum. There are two fuel tanks which have a capacity of thirty gallons each. The clutch, a single plate type, is housed in an aluminum clutch housing. The transmission provides four speeds forward and one in reverse. The power takeoff of the winches is from the transmission. The final drive system is quite unusual in that there are two separate drive shafts, and each track is driven by an independent final drive mechanism. Removable track grousers are supplied for use in difficult terrain.
SPECIFICATIONS
Weight
Trailer load capacity
Winch capacity
Length (overall)
20 ft., 8 ins.
Length (less arms)
17 ft.
Width
7 ft., 5 1/2 ins.
Height
7 ft., 11 ins.
Ground clearance
16 ins.
Tread centers
6 ft., 4 ins.
Ground contact
9 ft., 11 ins.
Track width
12 ins.
Track links
Fuel tanks
2—30 gals. each
Fuel consumption
Fording depth
Speed
Engine
6 cyl. valve in head, air-cooled Diesel
Bore and stroke
5.5 ins. x 6.5 ins.
Horsepower
Ignition
Battery
2—12 v.
Transmission
4 speeds forward, 1 reverse
Steering
Crew
Japanese: p. 18.2 (April 1, 1945)