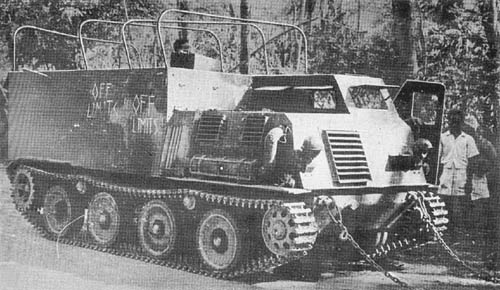 This vehicle serves as an artillery prime mover and as a personnel carrier for 24 men. It appears to be of recent manufacture, and its first known appearance in combat was during the Leyte campaign in the Philippines.
It is a full-tracked vehicle armored with 1/4-inch plate throughout. The engine which is located at the right front of the body is a 6-cylinder, in-line, valve-in-head, air-cooled diesel of a type similar to those used in the Model 2595 light tank and the combination prime mover and wrecker. Two fuel tanks provide an estimated total capacity of 50 to 60 gallons.
The tracks and suspension are of the conventional Japanese design, using dual bogie wheels and a steel center guide track. The four bogie wheels, apparently identical with those on the Model 2595 light tank, are mounted on bell cranks and are sprung by horizontal coil springs which are inclosed within the body armor with only the bogie arms exposed. There are two return rollers. The track is driven from the rear. A clutch and brake steering system is used. The transmission provides four speeds forward and one reverse. A high and low transfer case is also provided.
A mount for a 7.7 mm machine gun is located on the left front of the driver's compartment. The vehicle does not mount a winch, but is provided with a spring mounted towing pintle for use as a prime mover. It has a capacity of from 2 to 3 tons if used as a cargo carrier. Maximum speed is reported as approximately 35 miles per hour, with exceptionally good cross-country performance due to the amount of track area in contact with the ground in relation to the weight of the vehicle.
SPECIFICATIONS
Weight
Length (overall)
15 ft., 9 ins.
Width (overall)
6 ft., 8 ins.
Height
Ground clearance
Tread centers
Ground contact
9 ft., 10 ins.
Width of track
10 ins.
Pitch of track
3-13/16 ins.
Track links
125
Fording depth
Theoretical radius of action
Roads
Cross-country
Speed (maximum)
35 m.p.h.
Armor (reported)
1/4 in.
Armament
7.7 mm machine gun
Ammunition (Rds.)
Engine
6-cylinder, in-line, valve-in-head, diesel.
Transmission
4 speeds forward, 1 reverse; high and low range.
Steering
Clutch and brake system
Seating capacity
24
Japanese: p. 18.3 (May 1, 1945)