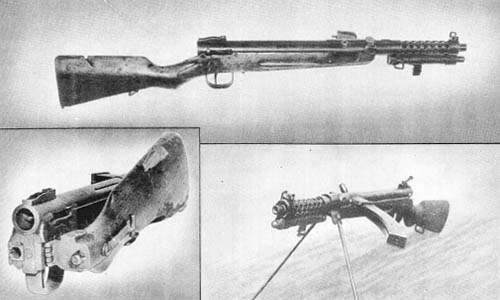 This Japanese paratrooper's submachine gun is a light, blowback operated, automatic weapon which fires the regular issue bottle-necked 8 mm pistol cartridge.
The gun, which is provided with a bayonet, also has a folding stock; that is, the stock is cut through just behind the receiver and hinged so that by releasing two locking hooks on the left side, the stock swings to the right and forward 180 degrees at the hinge and parallel with the barrel. The barrel and barrel jacket are held in place by a single screwpin threaded at the base and with a folding wingnut head, enabling changes without tools. The receiver assembly is machined in two units, with the units shrunk fit in final assembly.
Two features of the firing mechanism which are of unusual interest are the fixed firing pin which screws into the face of the bolt, and the feeding and chambering bar which insures that the cartridge is very nearly chambered before the firing pin can touch the primer.
In the illustrations above, the top picture shows the weapon as fired, and the photograph at lower left shows the method of folding. A bipod is frequently used with this gun as illustrated in the photograph at lower right.
SPECIFICATIONS
| | | |
| --- | --- | --- |
| Caliber | | 8 mm |
| Weight (without bayonet, magazine, & sightleaf) | | 7 lbs., 11 ozs. |
| Length (stock extended, without bayonet) | | 34 ins. |
| Length (stock extended, with bayonet) | | 49 ins. |
| Length (stock folded, without bayonet) | | 22.25 ins. |
| Sight radius | | 20 ins. |
| Principle of operation | | Blowback, bolt action |
| Feeding device | | Curved box magazine; staggered feed type. |
| Capacity of feeding device | | 30 rounds |
| Cooling system | | Air |
| Ammunition types | | 8 mm bottle-necked pistol cartridges |
| Rate of fire | | 400-450 r.p.m. |
| Type of sight | | Leaf |
| Length of barrel | | 9 ins. |
| Length of rifling | | 8.125 ins. |
| Rifling | | |
| Twist | | Uniform R.H., approx. 1 in 12 |
| No. of grooves | | 6 |
| Muzzle velocity | | 1,080 f/s |
Japanese: p. 204.1 (August 1, 1945)