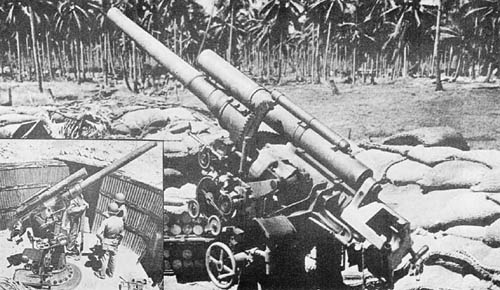 This weapon, previously erroneously called the Type 10, is a naval type antiaircraft gun, mounted on a pedestal which permits a traverse of 360 degrees. The gun tube, of built-up construction, recoils inside a sleeve type cradle. A guide on the bottom of the tube rides in a groove, preventing rotation of the tube. Since the trunnions are located at the rear of the tube, muzzle preponderance is compensated for by an equilibrator inside the pedestal.
A hand-operated, semi-vertical sliding type breechblock and a hydrospring recoil mechanism are used. Recoil and recuperator are located over the tube. A small cylinder above the recoil cylinder is apparently for storing an oil reserve.
The elevating handwheel is located to the left of the weapon, and the traversing handwheel to the right. Two platforms, one on either side attached to the superstructure, allow the layers to move with the gun in traverse.
A bracket on the left of the piece is believed to mount a telescope and range drum.
SPECIFICATIONS
Caliber
76.2 mm (3 ins.)
Weight of gun and mount
5,290 lbs.
Weight of gun
1,100 lbs.
Length of barrel
40 cals.
Length of tube
9 ft., 6 ins.
Height (traveling position)
Height (firing position)
Width (overall)
Length of chamber
1 ft., 8 ins.
Rifling
R. H. twist
No. of grooves
24
Width of grooves
Depth of grooves
Width of lands
Muzzle velocity (H.E. shell)
2,200 f/s
Max. range (horizontal)
Max. range (vertical)
26,000 ft.
Rate of fire
10 to 12 r.p.m.
Traverse
360°
Elevation
75°
Depression
5°
Length of recoil
Ammunition
H.E. w/ powder train time fuze
Wt. of projectile
12 lb., 11 ozs.
Japanese: p. 114.1 (August 1, 1945)