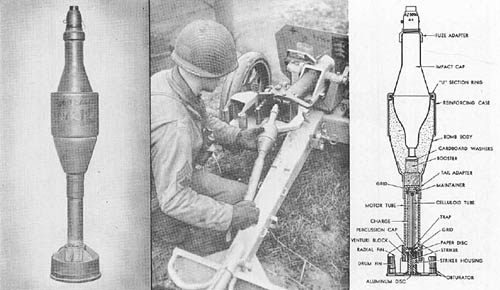 This projectile is fired from the German 8.8 cm Raketenwerfer 43 (Püppchen—see page 352.1). From this weapon, as limited by the sight, a maximum effective range of 700 meters (765 yards) is obtained. The explosive head is identical to that of the rocket fired from the German counterpart of the "Bazooka" (page 357).
The fuze (AZ 5095) functions as follows: the force of set back causes the set-back ring to move rearward, bending the two prongs of the stirrup spring. These prongs, by engaging in the inside groove of the set-back ring prevent the ring from returning forward. Meanwhile, the striker needle is held away from the primer detonator by a flat, coiled clock spring inside the set-back ring. The clock spring unwinds, expanding against the inside of the fuze body, thus providing a slight delay in the arming of the fuze.
The propellant is a double base powder in the form of a single grain with 14 perforations. There is a hole .364 inch in diameter through the center of the grain. Three lands on the outside of the grain insure an outside burning surface. A triangular-shaped spacer holds the head igniter firmly against the quickmatch. The quickmatch fits in a slight indentation in the head igniter. The primer used in the "Püppchen" rocket is the standard No. 26 percussion primer found in many German artillery fuzes.
SPECIFICATIONS
| | | |
| --- | --- | --- |
| Weight (complete, as fired) | | 5 lbs., 13.06 ozs. |
| Weight of H.E. filler | | 1 lb., 7 1/4 ozs. |
| Weight of fuze with detonator | | 3.15 os. |
| Weight of motor and tail assembly | | 1 lb., 8.5 ozs. |
| Weight of propellant | | 1.63 ozs. |
| Overall length | | 19.64 ins. |
| Length of propellant grain | | 4.95 ins. |
| Diameter of propellant grain | | .85 ins. |
| External diameter | | 3.494 ins. |
German: p. 358 (August 1, 1945)