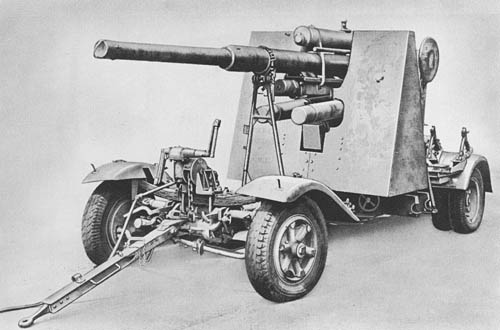 This multi-purpose weapon emerged as the most highly publicized artillery piece of the German army during the North African campaign. It is primarily an antiaircraft gun adaptable to antitank and general artillery use. In its antitank role it is fitted with a shield. In its mobile form it is towed on four wheels, usually with an 8-ton half-tracked tractor.
The tube assembly of the gun is of a construction not comparable to any design now in use in this country. It consists of an outer tube or jacket, an inner locking tube and a loose three-section liner. The front and center sections of the liner are keyed in place so as to align the rifling and prevent relative rotation.
The mount is provided with two outriggers for stability when firing in traverses other than directly front or rear. These are hinged to the bottom carriage to travel in a vertical position. During firing the outriggers are let down and secured by half-round locking pins.
The mount is equipped with three means of fire control depending on the usage: data transmission for antiaircraft fire, direct laying for antitank fire and indirect laying for indirect fire.
Specifications listed herewith are based on tests conducted at Aberdeen Proving Ground of a captured 88 mm model Flak 18, under Ordnance Program 5772. The mechanical-type fuse setter and the azimuth indicators were examined at Frankford Arsenal.
The differences implied by the nomenclatures, Flak 18, 36 and 41, refer to different methods of construction.
SPECIFICATIONS
Caliber
8.8 cm (3.46 ins.)
Length of tube
184.6 ins.
Weight (travelling position)
7.9 tons
Weight (firing position)
5.5 tons
Length (travelling position)
25 ft., 3 ins.
Length (firing position)
Height (travelling position)
102 ins.
Height (firing position)
63 ins.
Width (overall); (traveling position)
94 ins.
Width of trail spread
Length of bore
162.4 ins.
No. of grooves
32
Diam. of grooves
3.552 ins.
Depth of grooves
Diam. of lands
3.473 ins.
Muzzle velocity (H.E. shell)
2,690 f.s.
(A.P.)
2,624 f.s.
Max. range (horizontal)
16,183 yds.
Max. range (vertical)
11,591 yds.
Rate of fire
15 to 20 r.p.m.
Traverse
2 x 360°
Elevation
+85°
Depression
-3°
Length of recoil (H.E.)
31.5 ins.
Ammunition
H.E. and 3 types of A.P.
Wt. of projectile
(H.E.) 20.35 lb.; (A.P.) 20.75 lb.
German: p. 111