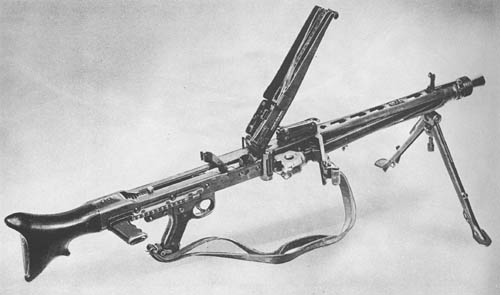 This is the latest known type of German machine gun. It is apparently intended eventually to replace the M.G. 34 which it resembles somewhat. The M.G. 42, however, is far easier to manufacture than the earlier gun and is less finished in appearance, because of the wide use of stamping, welding, and riveting.
The M.G. 42 is air-cooled, recoil-operated, gas-assisted, belt-fed, and is fitted with a quick barrel-changing device. It has a much higher rate of fire than the M.G. 34, but it is said to be less accurate than the earlier weapon.
This gun can be used on a bipod as a light machine gun, on a tripod as a heavy machine gun, as an antiaircraft machine gun, and for numerous other special purposes on special mounts. The barrel jacket and receiver are constructed of pressed steel welded lengthwise with runways welded into the receiver for the bolt. The cover and feed mechanism, which is made of stamped steel, is hinged at the front of the receiver. The shoulder stock is plastic. The right side of the barrel jacket is left open so that when the bolt is retracted the barrel may be removed and changed. A lever in a recess on the right side of the barrel jacket forces out the rear of the barrel. This is a very simple and fast barrel change.
The action is different from the M.G. 34 in that the bolt does not lock to the barrel extension by a turning bolt head, but rather by two rolls set in the bolt head which lock bolt and barrel extension together by running into camways in the barrel extension when the bolt head hits the barrel extension.
SPECIFICATIONS
| | | |
| --- | --- | --- |
| Caliber | | 7.92 mm (.312 in.) |
| Weight of gun with bipod | | 26 lb. |
| Weight with heavy machine gun tripod mounting | | 65 1/2 lb. |
| Overall length | | 48 ins. |
| Principle of operation | | Recoil, assisted by muzzle recoil booster |
| Cooling system | | Air |
| Feeding device | | Metallic non-disintegrating link belt |
| Capacity of feeding device | | 50 rd. lengths and multiples thereof, and 50 rd belt drums |
| Sights | | (a) Inverted V front sight and leaf rear sight with open V notch graduated from 200 to 2,000 meters. |
| | | (b) Separate antiaircraft rear sight hinged on the rear sight base. |
| | | (c) Antiaircraft ring-sight to be fitted on barrel jacket. |
| | | (d) Telescopic sight on a tripod when used as a heavy machine gun. |
| Rifling | | 4 grooves right-hand concentric |
| Muzzle velocity | | 2,500-3,000 f/s |
| Maximum range (as L.M.G.) | | 2,200 yds. |
| Effective range (as L.M.G.) | | 600 yds. |
| Rate of fire (cyclic) | | 1,335 r.p.m. |
| Ammunition used | | All 7.92 mm Mauser ground types (except antitank rifle ammunition) |
German: p. 215