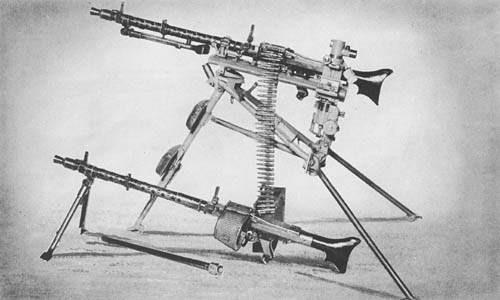 The M.G. 34 is a standard machine gun of the German Army. It cannot be compared directly with any American automatic weapon. It is a multi-purpose weapon and is used as a light machine gun, a heavy machine gun, an antiaircraft machine gun, and also on tanks and other vehicles. Because of its adaptability, it is the most common automatic weapon used by the German Armed Forces.
Without bipod mount, the M.G. 34 weighs 24 1/4 lb., and is occasionally fired by the use of a second soldier's shoulder as a rest. A light bipod adapts it for prone fire and with tripod mount this becomes a heavy machine gun.
The M.G. 34 is a recoil-operated, gas-assisted weapon, belt-fed, and air-cooled. It operates on the Solothurn rotating bolt-head principle. A simple mechanism makes it easy to exchange a heated barrel for a cool one. It is designed to deliver semi-automatic or full-automatic fire.
Studies at Aberdeen Proving Ground show that it is very easy to disassemble in the field, but cannot be regarded as an easy gun to manufacture on a mass production basis, as compared with the M.G. 42.
Studies of captured guns show that this weapon has a high rate of fire—too high for a light machine gun—resulting in poor accuracy in full-automatic operation. When used as a heavy machine gun it shows excellent stability. It is extremely critical as to adjustment, lubrication, and foreign matter.
SPECIFICATIONS
Caliber
7.92 mm (.312 in.)
Weight of gun with bipod
26 1/4 lb.
Weight with H.M.G. Tripod mounting
68 1/2 lb.
Overall length
48 ins.
Principle of operation
Recoil, assisted by muzzle booster. Solothurn type action.
Cooling system
Air
Cartridge feed
Flexible metallic link belt containing 50 rds. and multiples thereof. Also 50 rd. belt drums and 75 rd. saddle-type drums.
Sights
(a) A blade front sight and vertical leaf rear sight with open V notch graduated from 200 to 2,000 meters.
(b) An aperture rear sight for use with a "cartwheel" type antiaircraft front sight.
(c) A telescopic sight is used on the heavy machine gun tripod mount.
Rifling
4 grooves right-hand concentric
Muzzle velocity
2,500 to 3,000 f/s depending on type of round used.
Maximum range
5,000 yds.
Effective—heavy
3,827 yds.
Effective—light
600 yds.
Rate of fire (cyclic)
800-900 r.p.m.
(practical)
100–120 r.p.m.
German: p. 213