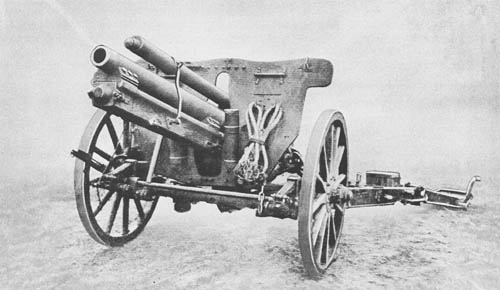 The 7.5 cm Gun, l.F.K. 18, was standard equipment for German Divisional Field Artillery until it was replaced by the 7.5 cm l.F.K. 38 and 7.62 cm F.K. 39 (r). The barrel is a solid-forged tube that screws into a detachable breech. The breech mechanism is a crank-operated, single-motion, horizontal sliding block type, fitted with a repeating trip-lock. It can be arranged for firing from the right-hand side only, or from either side at will. The top carriage is arranged to traverse about a vertical pivot up to 30° right and left. The cradle is mounted on the top carriage by trunnions set far to the rear. Forward preponderance is balanced by a pair of equilibrators, located one on either side of the cradle.
The screw type traversing gear is operated by a handwheel on the left side of the carriage; the elevating gear, of the toothed arc type, may be operated from either side in the case of light guns, and from the right-hand side only with heavier types.
Sighting gear consists of a pointed or indicating system on the left side. The sight is adapted to correct for 7° transverse out-of-level at any angle up to 45°. Adjustment for angle of site is provided up to +/- 12°. A panoramic telescope is also used.
The carriage of split trail construction is provided with spring suspension which is put into action automatically by closing the trails for traveling and out of action by splaying out the trails for firing. A traveling brake of the expanding type acts upon the inside of the brake drums on the wheels.
Separate-loading, high-explosive or shrapnel ammunition is used.
SPECIFICATIONS
| | | |
| --- | --- | --- |
| Caliber | | 75 mm (2.95 ins.) |
| Weight of gun in action | | 2,259 lb. |
| Weight of gun | | 628.1 lb. |
| Weight of gun in traveling position (including 3 rounds of ammunition) | | 2,975 lb. |
| Length in calibers | | 6.4 ft. |
| Length of recoil (maximum) | | 3.77 ft. |
| Length of recoil (minimum) | | 2.13 ft. |
| Muzzle velocity (maximum) | | 1,558 f/s |
| Range | | 10,935 yds. |
| Elevation | | 45° |
| Depression | | -7° |
| Traverse | | 30° |
German: p. 120