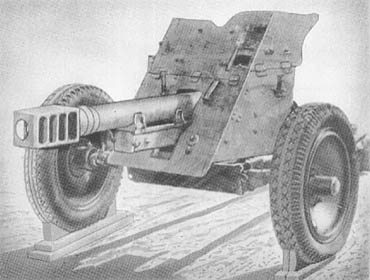 The 7.5 cm I. G. 37, formerly known as the 7.5 cm Pak 37, consists of a short barreled piece fitted with a muzzle brake, and mounted on the carriage of the obsolete 3.7 cm antitank gun. The equipment has been utilized as a close support infantry weapon.
The barrel of monobloc construction is 20 1/2 calibers long. The muzzle brake is in the shape of a rectangular box with four baffles, each at approximately a 45° angle deflecting to the rear. There is a hydrospring recoil mechanism and a breech mechanism of the vertical sliding wedge type. The latter has no provision for semi-automatic operation. A percussion type firing mechanism is cocked automatically when the breech is closed, and the gun is fired by pressing a plunger on the elevating handwheel. There is an auxiliary firing lever on the left side of the breech ring.
The carriage, which is mounted on two rubber-tired wheels, has split tubular trails. The shield is in two main parts, the upper shield and the lower shield. The lower part hinges upward when travelling, and is swung downward when the weapon is in the firing position. The upper shield is in two sections, the upper half being hinged. This section can be folded forward in order to give a lower silhouette.
Traversing, elevating, and sighting are accomplished by one man. Direct sighting is obtained by means of a telescope. A quadrant plane is located on top of the breech ring, and there is also a range drum graduated for firing semi-fixed high explosive and fixed hollow charge ammunition. With the present fire control equipment, the maximum effective range is 2,900 yards.
SPECIFICATIONS
Caliber
75 mm (2.95 ins.)
Weight (traveling position)
Weight (firing position)
1,124 lbs.
Length (traveling position)
11 ft., 7 ins.
Length (firing position)
11 ft., 1 in.
Height (shield lowered)
38 ins.
Height (shield raised)
46 1/4 ins.
Width (overall)
5 ft., 3 1/2 ins.
Width of trail spread
9 ft., 1 in.
Length of rifling
42 3/4 ins.
Rifling
R.H. twist
No. of grooves
24
Muzzle velocity (H.E. shell)
920 f/s*
Max. range
5,630 yds.
Max. range (present fire control)
2,900 yds.
Traverse
60°
Elevation
22 1/2°
Depression
5°
Tires
Pneumatic—6.00 x 20
Length of recoil (max.)
17 ins.
Ammunition
H.E., Hollow Charge
Wt. of projectile
H.E., I. Gr. 18—13.2 lbs.
HE-AT, I. Gr. 38HI/A—6.6 Ibs.
*Muzzle velocity with hollow charge ammunition is 1,165 f/s. Range, 5,410 yds.
German: p. 122.2 (May 1, 1945)