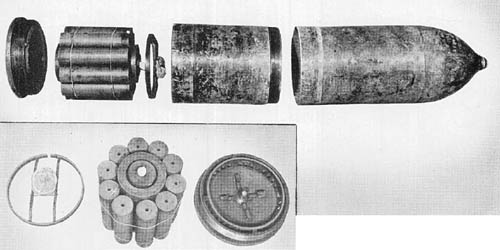 This projectile is fired from the Raketenwerfer 61 (see pages 38.3 and 38.4). It shows a radical departure from standard spin-stabilized rocket design by the use of insert splines at the after end of the motor body. These splines, fitting into the rifling of the projector liner, aid in giving an initial spin to the projectile.
The rocket consists of three main assemblies: the high explosive body, motor body, and nozzle assembly.
The high explosive body of two-piece welded construction is threaded internally at its after end to receive the motor body. The booster pocket and fuze adapter assembly is welded in position at the nose of the high explosive body. The bourrelet is located just behind the welded junction of the ogive and the cylindrical section.
The motor body is threaded externally to screw into the high explosive body and internally to receive the nozzle assembly. Both the explosive body and nozzle assembly are secured by means of two diametrically opposed set screws. Nine grooves for the splines are machined into the base of the periphery of the motor body. The high explosive body is filled with 270 pounds of the German explosive charge 13A, which is 50/50 poured amatol.
The 32 venturi holes in the nozzle plate are set at an angle of 14° to the axis of the rocket. In the center of the nozzle plate there is a threaded hole to receive the igniter primer for the rocket propellant.
A rear spacer ring welded to the nozzle plate aids in the positioning of the outer row of propellant charges.
SPECIFICATIONS
| | | |
| --- | --- | --- |
| Caliber | | 38 cm (15 ins. approx.) |
| Total weight of rocket | | 761 lbs. |
| Overall length (not including fuze) | | 56.68 ins. |
| Diameter of bourrelet | | 14.94 ins. |
| Maximum range | | 6,179 yds. |
| Weight of explosive charge | | 270 lbs. |
| Weight of propellant charge | | 88.5 lbs. |
| Fuze | | Point detonating |
| Weapon from which fired | | Raketenwerfer 61 |
German: p. 354.2 (June 1, 1945)