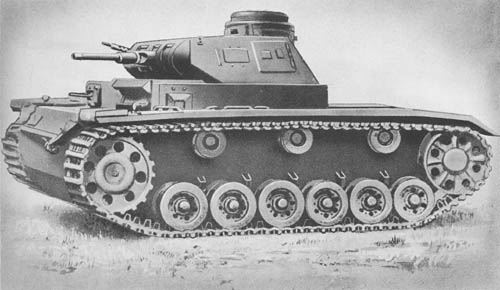 Reports on the early development of the Pz. Kw. III do not agree. The following summary conforms to the best information available.
Model A—Weighed about 20 tons. Its suspension arrangement consisted of eight small bogie wheels each side on semi-elliptical, laminated springs, with three return rollers. Motivating power was generated by a Maybach V-12 gasoline engine rated 300 hp. Armament consisted of a 3.7 cm Kw. K., two light machine guns in the turret, and one light machine gun in the front plate of the superstructure. Armor consisted of 30 mm plate all around.
Model B—Same as Mode] A except for suspension which consisted of five medium size bogie wheels and two return rollers.
Model C—Principal change was the new type suspension which incorporated six bogie wheels and three return rollers, which became standard for the Pz. Kw. III tank. It is believed that torsion bar suspension evolved in this model.
Model D1—At this point in the development the previous models were given the nomenclature D1. Commander's tanks are known to have been produced serially from this period on.
Model E—Represents the first model in which the definite Pz. Kw. III type has been crystallized. It embodies the improvements made in previous models. It carried the same armament (3.7 cm Kw. K.) and had a suspension arrangement of six bogie wheels sprung on torsion bars and three return rollers.
A self-propelled equipment known as the Sturmgeschütz has been developed from the Pz. Kw. III. It consists of the Pz. Kw. III chassis mounting a short-barreled 7.5 cm Kw. K. The chassis was later used to mount the 7.5 cm Kw. K. 40, long-barreled gun, and the 10.5 cm howitzer.
SPECIFICATIONS
(Model C)
Weight
21 tons
Length
17 ft., 9 ins.
Width
9 ft., 7 ins.
Height
8 ft., 3 ins.
Ground clearance
15 ins.
Tread centers
8 ft., 1 7/8 ins.
Ground contact
(approx.) 10 ft., 6 ins.
Width of track
14 1/8 ins.
Pitch of track
Track links
Fording depth
3 ft.
Theoretical radius of action
Roads
100 miles
Cross-country
60 miles
Speed
Roads
28 m.p.h.
Cross-country
15 m.p.h.
Armor
Front plate
30 mm
Sides
30 mm
Armament
3.7 cm Kw. K.
3 MG's
Ammunition
Engine
Maybach V-12, 300 hp.
Transmission
Synchromesh—10 speeds forward, 4 reverse.
Steering
Epicyclic, clutch brake
Crew
5
German: p. 22