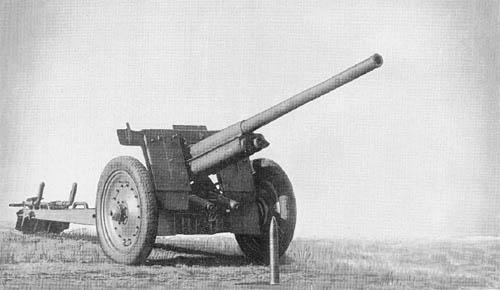 The 7.62 cm F. K. 36 (r) is a gun of Russian design and manufacture. The Germans captured so many pieces during the early months of the invasion of Russia that they were adopted by the German Army both in the original form for standard divisional field guns and as antitank guns known as the 7.62 cm Pak 36 (r) described on page 116.
Both weapons have the same general characteristics: built-up tubes fitted in reinforcing jackets, vertical sliding breech blocks, hydropneumatic recoil mechanisms, and split trail carriages. In addition to a number of minor changes, the principal difference is in the much greater chamber length of the Pak 36 (r)—28.25 inches compared with 15.20 inches, and the addition of a muzzle brake to the Pak 36 (r).
The breech mechanism may be operated either by hand or semi-automatically. Extractors housed in the breech ring are operated by cams when the block opens. A hand control on the left side of the breech ring is provided in case the cartridge fails to eject. The firing mechanism is a continuous pull type.
SPECIFICATIONS
Caliber
76.2 mm (3 ins.)
Weight (complete)
3,619 lb.
Weight (firing position)
3,564 lb.
Length (overall)
22 ft. 6 1/4 ins.
Length of gun
153 ins.
Height (traveling position)
Height (firing position)
Width (overall)
Width of trail spread
Length of rifling
120 ins.
Length of tube
12 ft. 2 ins.
No. of grooves
32 R.H. Polygroove form; Twist-1 in 25 Uniform
Width of grooves
0.196 in. (5 mm)
Depth of grooves
0.033 in. (0.84 mm)
Width of lands
0.078 in. (2 mm)
Muzzle velocity (A.P.H.E. shell)
2,249 f/s (H.E.—2,335 f/s)
Max. range (horizontal) (A.P.-H.E.)
14,000 yds.
Rate of fire
Traverse
60°
Elevation
72°
Depression
4°
Length of recoil (average)
H.E.-A.P.H.E.—31.1 ins.
Ammunition
H.E.-A.P.H.E.-A.P. 40
Wt. of Projectile
H.E.—13.45 lbs.
A.P.H.E.—14.2 lbs.
A.P. 40—9.2 lbs.
German: p. 116.1