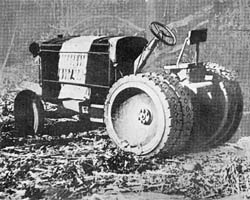 This is a commercial type wheeled tractor used for general purpose work. The front wheels are 29 x 5 inches and the rear dual wheels are 40 x 10 inches, all fitted with solid rubber tires. The drive is from the rear wheels only, and steering is effected by a worm gear system operating the front wheels. Normal automotive controls are provided, save for a hand throttle. The transmission provides three speeds forward and two in reverse.
The K3 type engine is identical to that used in the "Kato" 70 tractor–a 4-cylinder, valve-in-head, gasoline type. There are two cylinder blocks of two cylinders each instead of a solid cylinder block. The generator, high-tension magneto, and water pump are all linked together with universal joints and driven from a single shaft extending from the timing gear on the right of the engine.
The tractor is fitted with front and rear towing pintles cast solid with the frame.
SPECIFICATIONS
| | | |
| --- | --- | --- |
| Weight | | |
| Winch capacity | | |
| Length | | |
| Wheel base | | 90 ins. |
| Overall width of tractor (rear) | | 74 ins. |
| Overall height of tractor | | 5 ft. |
| Capacity of fuel tank | | 30 gals. |
| Tread centers (front) | | 63 ins. |
| Ground clearance | | 8 ins. |
| Fuel capacity | | (approx.) 30 gals. |
| Engine | | 60 h.p. at 1,200 r.p.m. |
| Bore | | 121 mm |
| Stroke | | 152 mm |
Japanese: p. 18.6 (August 1, 1945)