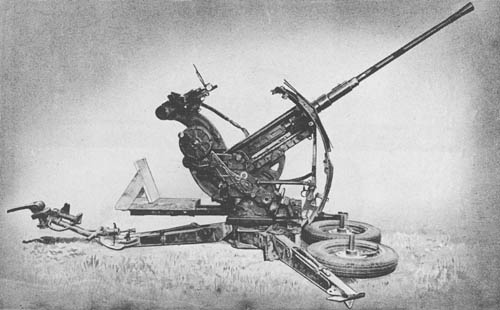 The 2 cm Flak 38, used in mountainous territory, is a semi- or full-automatic, short recoil operated gun. It is fed with a box type magazine containing 20 rounds. The breechblock is of the Solothurn type. The barrel is equipped with a flash hider. It is the 2 cm Flak 38 gun on a light mount.
This weapon is fired by means of a foot pedal on the right front of the mount. The layer's seat behind the gun rotates with the mount in traverse. Elevating and traversing are manual by means of handwheels located on the right and left sides of the mount respectively. There are two speeds both in elevating and traversing; high speed is obtained by compressing a lever in the handwheel grip.
A small shield is attached to the front of the cradle, and a large shield of two sections is attached to the front of the mount. This mount is a two-wheeled, pneumatic-tired trailer and pack type which may be towed by a prime mover or taken apart and transported in sections by horse or foot troops.
SPECIFICATIONS
Caliber
20 mm (.79 in.)
Length of tube (with flash hider)
56.6 ins.
Weigth (travelling position)
825 lb.
Weight (firing position)
690 lb.
Length (travelling position)
143 ins.
Length (firing position)
Height (travelling position)
50-57 ins.
Height (firing position)
31-42 ins. mounted flush
Width (overall); (travelling position)
47 ins.
Width of trail spread
Length of bore
44 ins.
No. of grooves
Width of grooves
Depth of grooves
Width of lands
Muzzle velocity
(H.E. shell) 2,950 f.s.;
(A.P. shell) 2,624 f.s.
Max. range (horizontal)
5,246 yds.
Max. range (vertical)
4,012 yds.
Rate of fire
220 yds. (practical): 450 (theoretical)
Traverse
360°
Elevation
+90°
Depression
-20°
Length of recoil
Ammunition
H.E. (four types): A.P. (two types)
Wt. of 1 magazine of 20 rds
21 lb.
German: p. 137