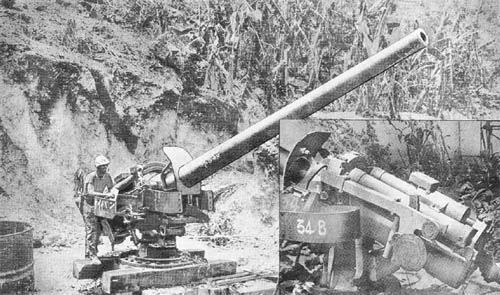 It is believed that this naval coast defense weapon was designed primarily for use against ships, as the fuzes used with the gun's ammunition are not sensitive enough to function satisfactorily upon impact with soft ground. This gun uses separate loading ammunition, and has a standard type mushroom head obturator. The breechblock is the horizontal swinging, interrupted screw type, having three threaded segments with two step threads. A hydropneumatic recoil mechanism is located above the barrel.
A naval pedestal type mount is used. Strips of iron fastened to and radiating from the pedestal are buried in the ground to insure stability. The piece is sometimes fitted in a casemate, the front and sides of which are cast in one piece. The top is rolled plate. A mantlet is fitted to the gun on the inside of the casemate. Gun and casemate are rotated manually, as no power system is provided.
No fire control equipment, with the exception of a telescopic sight mount, was recovered with the gun, and it is believed that the piece is fired by direct laying.
SPECIFICATIONS
Caliber
140 mm (5.5 ins.)
Weight (firing position)
Length (overall)
23 ft., 8 ins.
Length (firing position)
Height (firing position)
Width (overall)
Length of tube
22 ft., 10 1/2 ins.
Length of rifling
19 ft., 3 1/2 ins.
No. of grooves
42
Width of grooves
Depth of grooves
0.051 in.
Width of lands
Muzzle velocity (shell)
850 meters (2,789 ft.) per sec.
from range disc on gun
Max. range (horizontal)
17,000 meters (18,598 yds.)
from range disc on gun
Rate of fire
Traverse
360°
Elevation
30°
Depression
-7°
Length of recoil
Ammunition
Wt. of projectile (H.E.) Common
83.8 lbs.
Japanese: p. 114.6 (August 1, 1945)