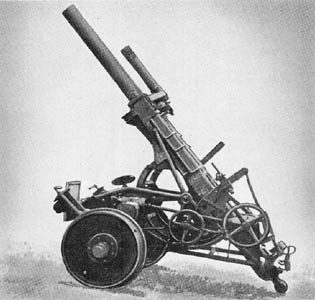 This weapon is designed for either smoke, chemical, or high explosive ammunition.
The smooth-bored tube of monobloc construction is independent of the breech and breech block. When the piece is loaded, both breech and breech block remain stationary, and the back end of the tube moves outward in a vertical direction in grooves cut into the inside of the legs of the breech block. During this operation, the tube pivots about its trunnions located midway between the muzzle and breech ends. There is no spring tension in the breech mechanism so that its movement is entirely manual. The piece is fired by percussion, a spring-driven firing pin being located in the breech block. The firing lever is located just below the breech operating lever.
There are two recoil cylinders, one located on either side of the tube. The cylinders are anchored to the ends of the frame, and the pistons attached to the sides of the breech. The counterrecoil system is located above the tube. Its cylinder is attached to the frame, and the piston to the yoke. Apparently both the recoil and the counterrecoil system is hydropneumatic.
The weapon is fired from the base plate (missing in photo) and wheels. In order to traverse the piece, it is pivoted about a ball and socket joint in the base plate by means of an axle traversing mechanism of ordinary design. Elevation is controlled by two parallel arcs which travel on pinions geared to and rotated by the elevating handwheel. Both traversing and elevating handwheels are located on the left side, as is also the sight bracket.
SPECIFICATIONS
Caliber
105 mm (4.1 in.)
Weight (traveling position)
Weight (firing position)
1,730 lb.
Length (traveling position)
Length (firing position)
Length of barrel
(16 cals.) 66 ins.
Height (traveling position)
Height (firing position)
Width (overall)
Width of trail spread
Length of bore
|
No. of grooves
|
Width of grooves
| Smooth bore
Depth of grooves
|
Width of lands
|
Muzzle velocity
426-1,380 f/s**
Max. range (horizontal)
6,810 yds.**
Min. range (horizontal)
1,668 yds.
Max. range (vertical)
Rate of fire
8-10 rds./min.
Traverse
14°
Elevation
45°-85°
Depression
Length of recoil
Ammunition
H.E.; Smoke; Chemical*
Wt. of projectile
H.E.—20.6 lbs.
Smoke—21.9 lbs.
*No chemical ammunition has ever been captured, although it is believed that the gun is designed for that type of shell.
**Not verified.
German: p. 110.2