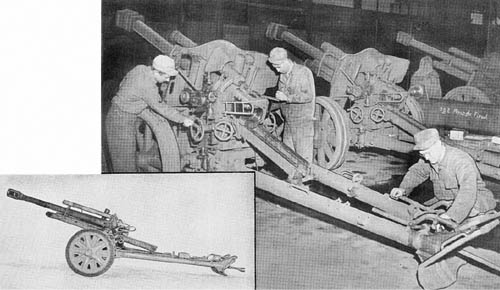 Feeling the need of a weapon having the performance characteristics of the le.F.H. 18 (M) but lighter in weight, the Germans brought out, early in 1944, a modified version mounted on the carriage of the 7.5 cm Pak 40. This carriage was used because at that time it was in large scale production and required a minimum amount of modification to adapt it for use with the howitzer.
The piece, of monobloc construction with a removable breech ring, is fitted with a double baffle muzzle brake having projecting wings welded on to give it the increased efficiency necessary for the lightened carriage.
The breech mechanism is a manually operated horizontal sliding block type. The firing mechanism is of the percussion type with the lever on the left side of the cradle.
The cradle is a rectangular box design. A single hydropneumatic equilibrator is attached to the right side of the cradle. The recoil is a hydropneumatic type, independent system.
The elevating handwheel and firing mechanism are now so located on the left hand side of the carriage that the layer can carry out the three operations of traversing, elevating, and firing, making the weapon suitable for direct fire.
The suspension consists of two torsion bars each extending the full width of the carriage body. As the two pieces are ballistically identical, the le.F.H. 18 (M) and the le.F.H. 18/40 use the same range tables.
A normal type of German artillery field sight is used for laying.
SPECIFICATIONS
Caliber
105 mm (4.13 ins.)
Weight (firing position)
4,322 lbs.
Length (overall)
20 ft., 2 ins.
Height (overall)
6 ft.
Height (firing position)
Width (overall)
6 ft., 11 ins.
Length of barrel excluding muzzle brake
115.75 ins.
Length of tube
106.66 ins.
Length of rifling
93.06 ins.
Rifling
Increasing twist; 1 in. 23 to 1 in. 17 3/4
No. of grooves
32
Width of grooves
0.220 in.
Depth of grooves
0.04 in.
Muzzle velocity (H.E. long range shell)
1,772 f/s
Wt. of projectile
32 lbs., 11 ozs.
Max. range (horizontal)
13,479 yds.
Max. range (vertical)
Max. pressure
34,000 lbs./sq. in.
Rate of fire
Traverse
56°
Elevation
40°
Depression
6°
Length of recoil
Ammunition
H.E.; H.E./I; Incendiary; Smoke; Star Shell; Prop. Leaflet Shell; Hollow Charge; Indicator Shell.
German: p. 108.3 (August 1, 1945)