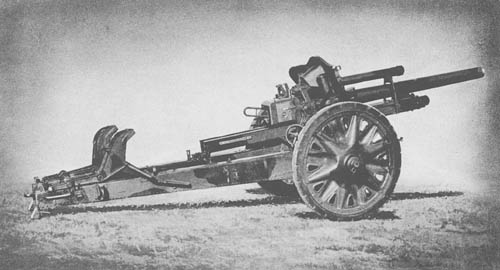 This howitzer is a counterpart of the United States 105 mm howitzer, and is the standard divisional field artillery howitzer of the German Army. It is approximately 116 inches long with very heavy, simply designed breech mechanism. The recoil and recuperator system is of the hydropneumatic type. The top carriage is principally of welded design, made of sheet steel 0.3 cm thick. The trunnion caps are of the split bearing type. The completely inclosed elevating mechanism allows a total elevating arc of 47°. The traversing mechanism is of the screw and nut type, almost completely inclosed with a total traversing arc of 56° 16′.
The piece can be emplaced for firing with a minimum number of operations, as it is automatically placed in three-point suspension when the trails are opened. The bottom carriage is of more complicated design than the United States equipment. The wheels of the l.F.H. 18 are made of a light alloy and are of the fluted disk type with solid rubber tires. The shield is lightly constructed. Optical fire control equipment is very similar to that used on the American equipment.
Model l.F.H. 18M has been fitted with a muzzle brake and a somewhat different carriage, with wooden-spoked wheels. This gun is mounted on the German Pz. Kw. II tank chassis which takes the name of "Wasp" (Wespe). Ammunition Charge F is the long-range charge (Fernladung) which can only be used when the gun is fitted with a muzzle brake.
The most recent model of the German 10.5 cm howitzer is the l.F.H. 42. It differs from the l.F.H. 18 in that its chamber is bored out and has interchangeable sleeves, making the regular use of a 6-charge propellant possible. The l.F.H. 42 is also approximately 11 inches longer.
SPECIFICATIONS
Caliber
10.49 cm (4.13 ins.)
Length of tube
9 ft.
Weight (travelling position)
Weight (firing position)
4,312 lb.
Length (travelling position)
18 ft., 4 ins.
Length (firing position)
19 ft., 8 ins.
Height (travelling position)
6 ft., 2 ins.
Height (firing position)
6 ft., 2 ins.
Width (overall)
78.8 ins.
Width of trail spread
11 ft., 9 ins.
Length of bore
94.2 ins. (22.8 cals.)
No. of grooves
32
Width of grooves
.223 in.
Depth of grooves
.047 in.
Width of lands
.174 in.
Muzzle velocity (H.E. shell)
1,542 f.s.
Max. range (horizontal)
11,674 yds.
Traverse
56°
Elevation
40°
Depression
-7°
Length of recoil
43.3 ins.
Ammunition
H.E.—A.P. tracer—A.P.C. tracer—hollow charge—smoke
Wt. of projectile (H.E.)
32.6 lb.; A.P. 31.25 lb.
German: p. 108