Technical Manual, U.S. War Department, October 1, 1944
Chapter X: Equipment
Section VI: Cavalry and Reconnaissance
1. GENERAL. The Japanese have given much thought to the cavalry arm, which is particularly useful in Manchuria and North China. Their specially bred cavalry horses, the get of Anglo-Arabian sires and native mares, average about 14.3 hands (approx. 57 inches). They have proved satisfactory, since they are sturdy, enduring, and relatively speedy.
2. SADDLES. The saddle (weight about 46 pounds with saddle bags, etc.) shows evidence of both English and American design (fig. 392).
Figure 392. Standard cavalry saddle.
3. SABER. The saber is a combination of a European type hilt with a Japanese cutting blade. It is 40 inches in length and weighs 3.13 pounds (fig. 393).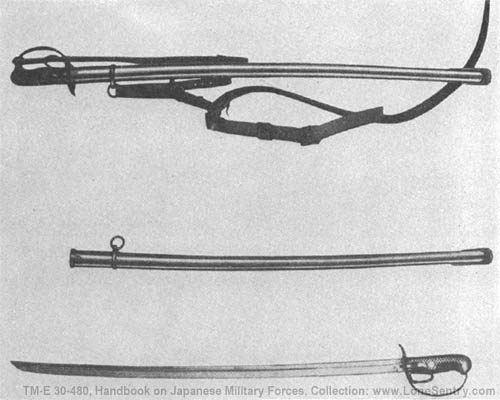 Figure 393. Standard cavalry saber.
4. OTHER EQUIPMENT. a. The individual trooper carries model 44 (1911) 6.5-mm cavalry carbine. (See sec. II. chap. 9.) The horse artillery of the cavalry brigade is armed with a 75-mm field gun, which is a variation of model 38. It is possible that model 95 (1935) 75-mm field gun also is used by these units. Light and heavy machine guns are standard equipment of cavalry brigades.
b. The Japanese have formed reconnaissance units which contain both mounted troops and motorized units. In these latter units, tankettes, and possibly armored cars (see sec. IV, chap. 9), will be found. Personnel of such units are armed like the horse troops, except that the saber may be omitted.

Back to Table of Contents