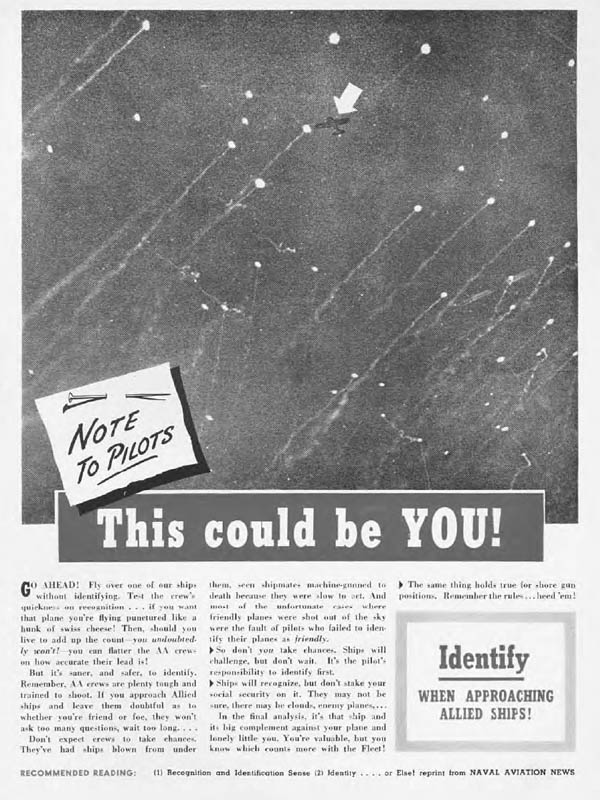 Note to Pilots: This could be YOU!
Identify when Approaching Allied Ships!

GO AHEAD! Fly over one of our ships without identifying. Test the crew's quickness on recognition… if you want that plane you're flying punctured like a hunk of swiss cheese! Then, should you live to add up the count–you undoubtably won't!–you can flatter the AA crews on how accurate their lead is!

But it's saner and safer, to identify. Remember, AA crews are plenty yough and trained to shoot. If you approach Allied ships and leave them doubtful as to whether you're friend or foe, they won't ask too many questions, wait too long…

Don't expect crews to take chances. They've had ships blown from under them, seen shipmates machine-gunned to death because they were slow to act. And most of the unfortunate cases where friendly planes were shot out of the sky were the fault of pilots who failed to identify their planes as friendly.

So don't you take chances. Ships will challenge, but don't wait. It's the pilot's responsibility to identify first.

Ships will recognize, but don't stake your social security on it. They may not be sure, there may be clouds, enemy planes…

In the final analysis, it's that ship and its big complement against your plane and lonely little you. You're valuable, but you know which counts more with the Fleet!

RECOMMENDED READING: (1) Recognition and Identification Sense, (2) Identify… or Else! reprint from Naval Aviation News.
Source: Naval Aviation News, August 1, 1944.

Related posts: